Dorset springing into life
 As a kaleidoscope of delicate wildflowers begin to bloom and the days grow lighter, there's no denying that spring is on its way! Marvel the beauty of springtime in Dorset, home to one of the richest areas of biodiversity in Britain. We have picked out a few highlights from the wonderful wildlife that surrounds Burnbake, so you can make plans to discover the enchanting nature on our doorstep during your stay. 
Dorset's dawn chorus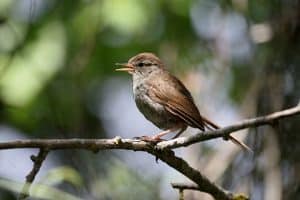 (photo credit: birdspot.co.uk)
 Listening to the blissful melodies of birdsong drifting through the air is a sure sign that you have arrived in the countryside, and spring is one of the prime times to hear the dulcet whistles of Dorset's winged inhabitants. The longer daylight hours of April and May trigger a hormonal response in many wild birds, prompting their musical frenzy, as they compete to attract mates. To hear Dorset's dawn chorus at its peak, it's best to get up early, when the enchanting song of a species like Cetti's Warbler travels further, thanks to the cooler air and reduced noise pollution. Britain's native wild birds can be heard in most parts of the countryside when you take a moment to stop and listen, but we'd recommend a visit to Radipole Lake and nature reserve near Weymouth for a particularly scenic experience. 
 Snowdrops in bloom at Kingston Lacy 
The UK's flora is as much a part of its wildlife spectrum as its fauna, and Dorset is a haven of floral delights. A trip to Kingston Lacy near Wimborne is the perfect opportunity to see some of Dorset's most beautiful wildflowers. From early January onwards, snowdrops adorn the grounds of Kingston Lacy, one of Dorset's most marvellous country houses, in a dazzling carpet of white comprised of over 6 million stunning blooms! They are the first of many flowers to bloom within the grounds, as daffodils, hyacinths and tulips also emerge from March onwards. Not forgetting the beautiful swathes of blue that cover the ancient woodland floors during springtime. 
All creatures great and small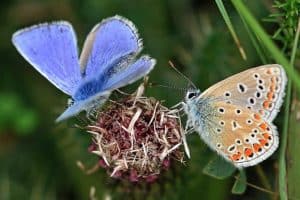 (photo credit: Mark Pike)
When thinking about the beauty of Dorset, it's worth paying attention to the more modest marvels of nature, such as the Lulworth Skipper and stunning Common Blue butterflies. You'll find these stunning insects, and many more, in and around the Dorset Area of Outstanding Beauty, stretching from Poole Harbour, which contains over 70% of British butterfly species and many other fascinating insects, across to Lyme Regis and up to Blandford. 
Rare reptilians

(photo credit: Steve Davis)
You don't need to brave the dry heat of the Sahara or Australian Outback to spot some of the world's most fascinating and elusive animals. The sand lizard is one of the UK's rarest reptiles and can be found right on our doorstep! Spring is when these stunning, scaly creatures emerge from hibernation and can be found scurrying through sand dunes and grassland areas, such as the Lulworth Estate – where the sand lizard was reintroduced just over ten years ago through national conservation efforts. If you're lucky enough to spot a rare species on your next Burnbake adventure, be sure not to touch or disturb. Some are protected, like the sand lizard, under the 1981 Wildlife and Countryside Act. 
Marvellous marine life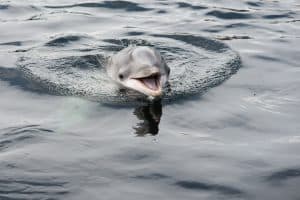 Situated close to Dorset's Jurassic Coast, Burnbake is ideally located if you'd like to experience the wonder of one of the world's most admired and intelligent wildlife specimens. Dorset frequently plays host to visiting Bottlenose Dolphin pods and Durlston Country Park is a brilliant place to catch sight of them. Why not bring your binoculars, your favourite hot drink and a camera to keep an eye out for these captivating, marine mammals? 
Fancy yourself as Dorset's next David Attenborough? Book a stay at Burnbake, the perfect hub for viewing fascinating local wildlife this springtime.