With fewer crowds, crisp skies and falling golden leaves covering the ground, some of the best routes in Dorset are perfect for autumnal weather. We are lucky that Burnbake lies at the heart of some of the most spectacular walks in the country; surrounded by leagues of wonderful wilderness, towering sea cliffs, rolling hills, sandy beaches and awe-inspiring landscapes with 37 miles of paths and bridleways.
You can pop along to Reception during your stay and pick up a map for three of our most popular walking routes for Studland beach, Corfe Castle and Old Harry Rocks. However, we thought it would be nice to share with you a handful of our favourite themed Dorset walks.
A LITERARY WALK: Five Go To Burnbake
Isle of Purbeck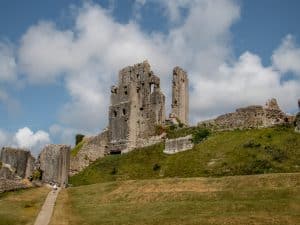 Enid Blyton is synonymous with the Isle of Purbeck. Having written more than 800 books and stories over 40 years, Enid Blyton still somehow made time to holiday three times a year in her beloved Dorset – more specifically the Isle of Purbeck.
She conjured the idea for The Famous Five whilst at The Ship Inn in Swanage in 1942, so that's the perfect place to set off on our literary walk.
Head south, then west along the coastal path, past the lifeboat station – perhaps one of Blyton's evocative nature books in hand. Waves slapping in the caves to your left, along the banks of blackthorn and gorse, hopefully with larks aloft in the air. Perhaps take a dip at Dancing Ledge – dynamited to create a swimming pool in the rocks by a local headteacher in more anarchic times and appearing in the Malory Towers books.
Then, head north to the Square & Compass pub in Worth Matravers for a little refresher (a ginger beer would be Blyton-like), before reaching Corfe and its ruined castle, which provided inspiration for The Famous Five's Kirran Castle. Tooot tooooot! The alluring call of the steam train awaits to finish your trail in vintage style.
A HISTORIC WALK: A Ghost Town
Tyneham Village and Flower's Barrow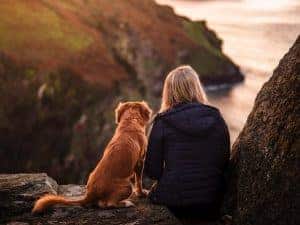 You'll find it easier to note down the postcode for your starting point on this route: BH20 5DE – Tyneham Village.
If you've never visited Tyneham Village before, then you will probably want to dedicate some time to exploring this rather haunting abandoned village – it's got a very distinctive ambience. Although, we recommend that you check if it's open before you set off, as it is Ministry of Defence land and can often be closed due to firing practice. Once you do set off from Tyneham, apart from one climb and steep descent, this trail is rather steady and moderate.
A short climb from the ghost village of Tyneham leads to a prehistoric ridgeway along the top of the Purbeck Hills, where you'll find the colossal Iron Age hill fort, Flower's Barrow. The views from this location are simply sublime – coastal seascapes from Portland to Poole Harbour. You're also treated to panoramic views over the huge swathes of heathland and invited into areas with an abundance of wildlife – remember to bring your notebook to jot down the species you spot!
Download a map for this wonderful walk from our friends at South West Coast Path.
A NATURE WALK: Squirrel Spotting
Brownsea Island (open until 31st October)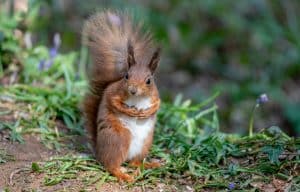 Being one of only a handful of places in the UK where you can marvel in the wonder of red squirrels, Brownsea Island is the perfect choice for an autumnal nature walk in Dorset. It's also one of the most entertaining times of year to catch a glimpse of these rare, flame-coloured species, as they'll be collecting and collating their 'winter stock', ready to hunker down. There are approximately 250 of these iconic creatures on Brownsea and you can lose a good hour or two watching them scamper up and down trees, gathering and gorging nuts. It's rather comical watching them dash about searching for the perfect spot to tuck away their treasured goods.
Aside from the glorious sight of red squirrels, you'll be treated to a special spectacle from the Lagoon on Brownsea – a haven for overwintering birds. If you time this correctly, you may catch a glimpse of an exodus of birds taking flight for warmer climes…
We do not tend to follow a 'trail' as such, but to enjoy the Island as we find it and follow our feet, and squirrels, until we need a pitstop. It really depends how long you wish to stay on the island!
Book your autumn staycation in our luxury forest lodges by clicking here.