A dog-friendly Dorset adventure
Leaving your beloved pooch behind whilst you holiday is tough, which is why we celebrate the fact that all family members are welcome at Burnbake, including ones of the furry, four-legged kind! Discover the delights that await the whole family when you book your holiday adventure with us and explore the captivating charm of the magical Dorset landscape.
Our idyllic woodland is a true adventure for doggies and owners alike, but if you are looking to go beyond the magic of Burnbake for a day out, Dorset is not short of charm. From sunset walks along dramatic coastlines to journeying back in time on the Swanage Railway, there's plenty of things to do with your faithful friend by your side.
We've picked five of our favourite days out to enjoy with your dogs, but there are endless adventures available in Dorset. Ask any member of the Burnbake team during your stay for personalised recommendations.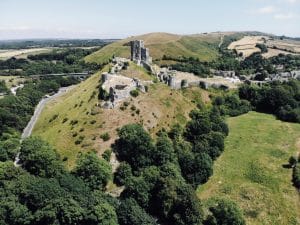 The remarkable ruins of Corfe Castle are an important part of British History, having survived the English Civil War. Roam the grounds and ruins with your four-legged friend and soak up the incredible scenery from its hilltop position. A pit stop at the tearoom or a picnic packed full of local Dorset produce in the sunshine is also a must.
Corfe Castle Model Village and Gardens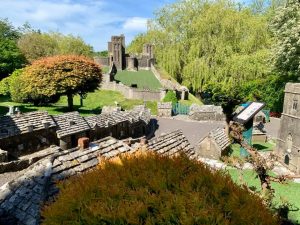 Charming, landscaped gardens, a wildlife garden, giant lawn games and a fossil corner – a trip to Corfe Castle Model Village and Gardens is one full of joy for the whole family, including your pooch. You'll get a glimpse of how the castle would have looked centuries ago and when you are ready for a rest, you can enjoy a cup of tea and slice of cake in the delightful 17th century courtyard of their tearoom.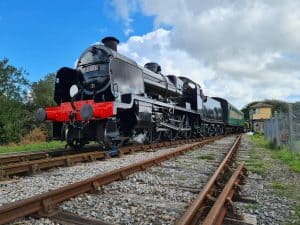 A nostalgic trip down memory lane on the Swanage Railway is a truly wonderful experience for whole family. With breathtaking views of the Isle of Purbeck from the carriage of a heritage train and your dog aboard too – what's not to love? Finish your day off by popping to a traditional pub with the best view in Corfe – The Greyhound Inn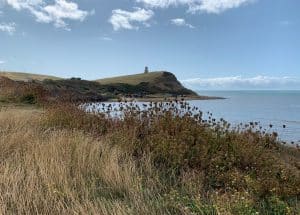 Dogs are welcome all year round at this stunning bay which showcases some of the most significant geology on the impressive Jurassic Coast. This stunning marine reserve has shallow, sheltered waters that make it the perfect location for a beach day with your pooch, swimming and paddling. For the more adventurous dogs (and owners), it's also a great spot for kayaking and paddle boarding. We recommend a delicious lunch or supper at Clavell's Restaurant after your balmy day at the beach – dogs, of course, are welcome.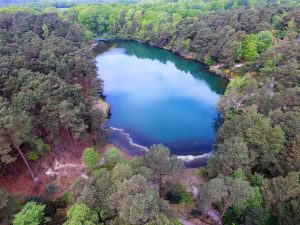 Mesmerising, colour changing waters in a spectrum of colours – welcome to Blue Pool in Wareham. Stroll around the pool with your pooch and experience the captivating sensation of colour. Fantastic views of the Purbeck Hills are only steps away too. Cream teas and tasty treats are also available from their rather delicious Tea House.
Burnbake's top ten tips for 'doggy holidays'
Bring a pet first aid kit along
Store the number of the local vet in your phone
Check your microchip details are up to date
Bring some towels to dry muddy or beachy dogs down
Collapsible food & water bowls are a lifeline
Bring a couple of leads of different lengths
Pre-weigh food into an airtight container
Pack a cooling/cosy blanket depending on the season
An anchor point/tether is great for campsite life
Don't forget their favourite toys/treats!
Click here to book your dog-friendly stay with Burnbake!