The smell of campfire smoke, the sizzle of sausages and the crackle of logs, there is nothing quite like cooking while camping! At Burnbake, our campers enjoy using fire pits and disposable barbeques raised off the ground to cook up tasty campfire grub morning and night.
We have compiled a tasty menu to inspire you on your next camping adventure, with no fancy equipment needed.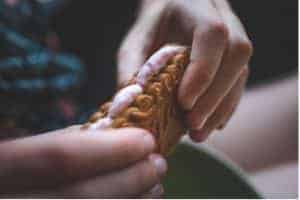 This recipe really does help you to take your s'mores to the next level! If you have never tried a s'more before, it is an American twist on the classic 'marshmallow cooked over the campfire', in which you sandwich your marshmallow between biscuits. This recipe gives some delicious suggestions to take your s'mores up a notch with some different flavours and even savoury options, but you really can play with any yummy ingredients you like to find your perfect combination!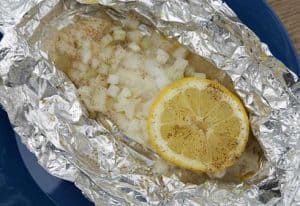 (Photo credit: 50Campfires)

We're blessed with some incredible seafood here on the Dorset coast. Make the most of your trip with a visit to the fishmongers, bring your fresh fish back to the campsite and cook up this zesty dish. The joy of this meal is not only in the flavour of the fresh fish, but no washing up is needed as your whole meal is cooked in foil over the crackling fire. Wrap your fish up in foil with some oil, onions and seasoning and pop onto the barbeque to cook. 
The Ultimate Campfire Breakfast Sandwich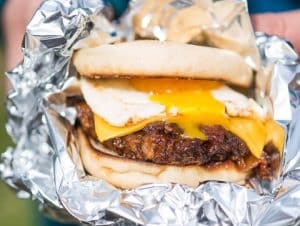 (Photo credit: The Adventure Bite)

A hearty and delicious breakfast is the best way to start your day and fuel an action-packed Dorset adventure! This delicious recipe combines succulent leftover pulled pork with a perfectly cooked runny-yolked egg, sandwiched between soft English muffins for a crowd-pleasing breakfast cooked over the crackling fire. Enjoy with a hot cup of coffee and listen to the morning Burnbake birdsong.
Camping Popcorn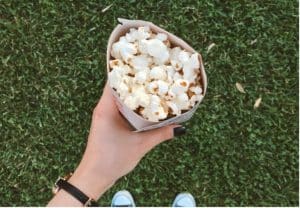 A fun treat for the little and big ones in your group! Place popcorn kernels on a sheet of tin foil, sprinkle with some vegetable oil, fold into a little satchel and shake over the fire until the popping stops. Add some sugar, salt or even some cinnamon depending on your taste, and enjoy.
Sizzling Skewers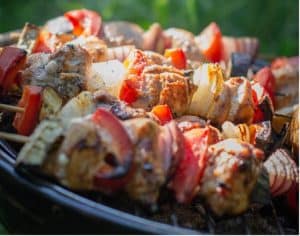 You really can't go wrong with skewers on a barbeque! The combinations are endless, although our favourites are halloumi and courgette and chorizo and tomato. If you're in a big group, it's always fun to put out a spread of ingredients and let everyone put together their perfect sizzling skewer!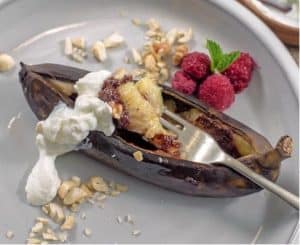 (Photo credit: World Cancer Research Fund)

If you're anything like us, you cannot imagine going without a dessert! Well, a barbeque banana split has become a firm favourite here at Burnbake, with everyone enjoying a different tasty combination. Split your banana along the inner curve, slide in some cubes of chocolate, a scattering of nuts and whatever other yummy ingredients you fancy, wrap up in foil and cook over the barbeque for 20 minutes. Eat while deliciously warm.
To book your next camping adventure, click here!