The trees and grass are glistening in the winter sun and there's plenty of space for zoomies whether you opt for woodlands or the beach – if that doesn't get their tail wagging, how about dogs go free when you stay with us Monday – Friday before 17th March 2023*!
If we've twisted your fingers to a Dorset staycation with your pet, we've rounded up some fantastic spots for the ulti-mutt holiday together:
A Corfe classic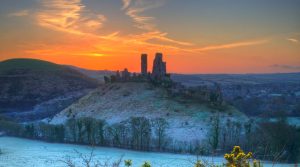 Top of our list is Corfe Castle – it's a local spot that we frequently recommend visiting on your trip to Burnbake, and for good reason. This thousand-year-old relic is the stunning focal point of Corfe village and is the perfect backdrop for a stroll. Meander amongst the ruins with your dog, or for a longer adventure, follow the Purbeck Way towards Wareham Quay. Discover cosy spots like the Old Granary, where your pet is more than welcome and you'll be able to catch the bus back to Corfe Castle once you've finished.
The secret garden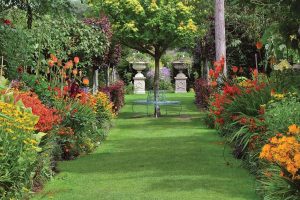 Image credit: Holme for Gardens
Tucked away at the Holme for Gardens farm shop and café in Wareham, you'll find a haven of pretty plants and beautiful, landscaped gardens to explore with your dog. Whatever the weather, the whole family can enjoy a moment of relaxation and take the chance to sample lovely, local produce from the Orchard Café or bring home something delicious from the farm shop – a wholesome souvenir from your stay in Dorset.
Tyneham frozen in time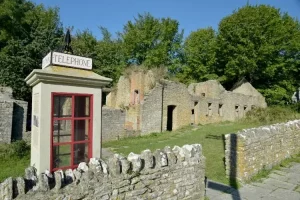 Image credit: historyhit.com
Down the road in Tyneham, near Wareham, you'll find delightful nature walks combined with plenty of fascinating history. Abandoned in 1943, the village of Tyneham has since become a civilisation lost in time, used for occasional military training exercises, with some of its once-inhabited buildings still standing and others in ruins. It's the perfect spot for an adventure with your pup, who will love running amongst the ruins and enjoying the beauty of rural Dorset.
Before planning your visit, make sure you check the military firing times in Tyneham and surrounding areas.
Go for gold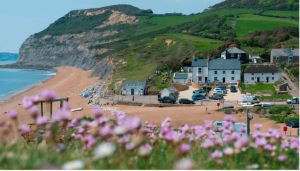 Image credit: The Anchor Inn
Perhaps one of the Jurassic Coast's most sought-after pubs, thanks to its stunning location and cosy atmosphere, The Anchor Inn at Seatown is the perfect base from which to explore Golden Cap – the highest point on the South West coast. Before, after or during a day walking along the coast, stop by dog-friendly pub The Anchor for a bite to eat, and admire the stunning coastal views all the way to Dartmoor.
There are so many adventures to discover with your dog this winter, so why wait? Book your dog-friendly holiday in one of our 2- or 3-bedroom luxury forest lodges here.
*applies to new bookings only.