Enhance your Burnbake woodland adventure by feasting on locally sourced ingredients, visiting one of the many characterful pubs, tasting a Dorset delicacy or dining at an award-winning restaurant where the chefs narrate the magical Dorset landscape from their carefully curated plates of food glorious food.
Local produce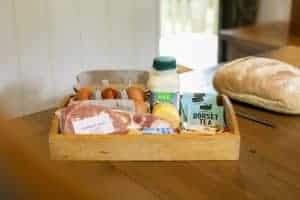 Purbeck is bursting with unique, locally farmed meat and fresh fish caught daily from the stunning Jurassic coast. Throw in an array of artisan bakers, makers and producers dotted across the locality and it's nothing short of mouth-watering!
You can create a campsite feast fit for royalty quite easily from Burnbake – put together a tasty bundle of treats that you've sourced from our onsite store, local delis, or farm shops whilst out exploring the locality, then tuck into a woodland al fresco dining experience when you return from your forage. There's something incredibly special about eating fresh produce from the land you lay your head on at night whilst gazing to the stars – it's a taste of authenticity.
Eating out
If you are looking to enjoy the local wares but from the hands of professionals, Purbeck is bursting with talented chefs, bakers and farmers who have put Dorset well and truly on the culinary map. From character pubs and beach bars to fine restaurants and tea rooms – there's something to tempt your tastebuds that caters to all budgets.
Here's a few of our favourites, though you can always pop into Reception during your stay to get some personal recommendations – we're big foodies at Burnbake and love all things local.
Shell Bay Seafood Restaurant
An eatery with stunning panoramic views out to Brownsea Island and absolutely sublime seafood, freshly caught from the surrounding coastline. A Sunday Times top pick!
The Greyhound Inn
A pub which has an incredibly scenic backdrop of Corfe Castle. The food is seasonal, local, fresh and simple and the line-up of cask ales is enviable. A true little gem!
The Bankes Arms
A family-run, boutique hotel which has an excellent food offering and fantastic views from the garden, overlooking Corfe Castle and the famous Swanage Steam Train.
Dorset specialities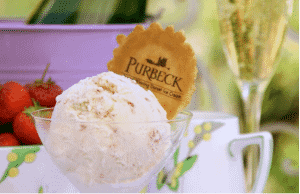 (Photo credit: Purbeck Ice Cream)
Enjoy the true flavour of the county! We recommend trying:
Seafood
Dorset's glorious coastline is a treasure trove of freshly caught seafood of the highest quality.
Dorset Naga
One of the hottest chillies on Earth, ranging as high at 1.5 million Scoville Heat Units.
Dorset Knob
The famous Dorset Knob, a crispy biscuit made from traditionally fermented dough.
Dorset Blue Vinny
A beloved local blue cheese made using a 300-year-old recipe, which is simply sublime.
Purbeck Ice Cream
A delicious scoop of award-winning ice cream produced on our doorstep from fresh Purbeck milk and Dorset double cream.
Isle of Purbeck Brewery
Enjoy a glass of glistening golden nectar from the award-winning local independent brewery in Studland.
Fancy a little on-site treat?
Private chef dining experience
Enjoy an evening of indulgence from the comfort of your luxury Burnbake forest lodge by booking our private chef, Christian Orner, who has an illustrious CV in catering including working in Michelin star restaurants, to delight you with a bespoke fine dining experience. Find out more and book your private dining experience here.