Purbeck truly is cycling country. Miles of breath-taking scenery, forests and cycle paths await our visitors, who come each year yearning for the great outdoors and the open road. Whether you're looking for a day-long endurance route, or a leisurely pedal with some pub grub pitstops, Burnbake is the perfect base.
Sandbanks coastal circuit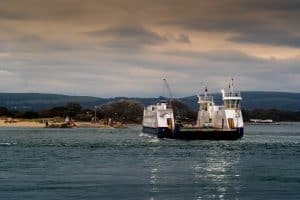 This beautiful circular route takes in the length and breadth of the beautiful Poole Harbour. You will cycle past the iconic Corfe Castle, beautiful Wareham Quay and head over to Sandbanks on the chain ferry, before cruising around the famous harbour and through Poole itself on this 35-mile trail. It will take you just over 3 hours, but be sure to check the ferry times too!
Awe-inspiring Mid-Dorset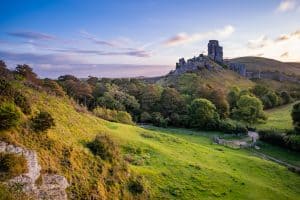 Starting at Moreton train station, this longer route is perfect for cyclists who are keen to take in even more of Dorset's stunning history and nature. One of the first stops on this fabulous journey is the family-run Bankes Arms Hotel, the ideal location to pause for a bite to eat before kicking off your cycling adventure, surrounded by picturesque views of Corfe Castle. You'll meander along the Purbeck Trail and Way, which offer awe-inspiring views of Purbeck's sweeping valleys, before looping back to Corfe Castle and Moreton station. At just over 56 miles, this route takes around 6 hours and is a brilliant way to make a day of cycling in the beautiful countryside around Burnbake.
The delights of Purbeck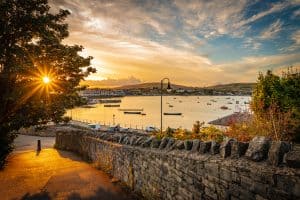 If you haven't already guessed, Corfe Castle is one of our Dorset highlights, and this route is another that passes by the beloved landmark, taking in some of Dorset's lesser-known historic and culinary hotspots. Head towards Worth Matravers, a collection of quaint, limestone cottages, on this 15-mile route that is sure to satisfy both foodies and cyclists.
Why not sample a mouth-watering cream tea at Worth Matravers Tea and Supper Room, as you head along the Priest's Way, into Swanage? Look out for breath-taking sea views as you cycle along through the village, along the Jurassic Coast, and stop to dive into some locally-sourced seafood at Swanage Bay Fish, to fuel the final leg of your journey, before returning uphill to Corfe.
An Avon adventure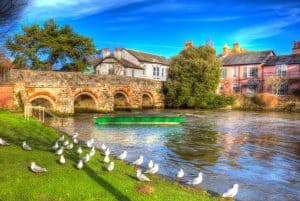 This intermediate route takes in tranquil views of the River Avon that flows from Hampshire – not to be confused with its famous namesake in Bristol. Follow the river as it meanders through the Dorset countryside, Kingston Great Common National Nature Reserve and the pretty village of Sopley.
Start at Pokesdown train station, heading into the Avon Causeway. Keep an eye out for swans and other dazzling waterfowl as you cruise through the Dorset and Hampshire countryside and its charming riverside towns and villages, towards Bournemouth Beach, another of Dorset's coastal highlights. This 31-mile trail follows mostly paved paths, so is ideal for most skill levels, and a short gravel run at the end of the Avon route is sure to delight adrenaline junkies who enjoy a little off-road experience.
As spring and summer arrive, there's no better time to start the wheels turning on your Burnbake staycation and explore the wonders of Dorset. Our delightful campsite and luxury lodges are open for bookings, so why not book your getaway now and make summer 2022 a real adventure?