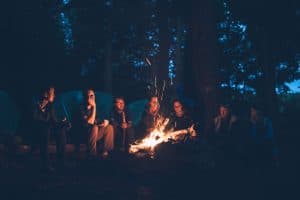 As the new year approaches and we are looking towards a fresh start, it's human nature to want to have something to look forward to. If you fancy a woodland getaway in 2022, then you can pop a tent peg in your diary as we start taking bookings on 15th December. Our camping season runs from April to October, and we welcome tents, campers and small motorhomes, not forgetting your four-legged friends too!
Any type of holiday feels much deserved, but we've rounded up a few reasons why booking a magical woodland stay at Burnbake could be the very thing you need to look forward to in 2022.
Reconnecting with nature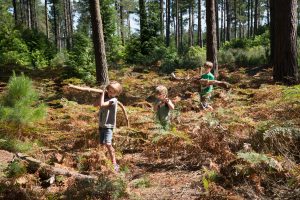 It's safe to say that 2021 has certainly been a year of reflection for many, as lots of us have paused to consider and enjoy the smaller things in life, such as quality time spent with loved ones and the importance of caring for our wellbeing. Many of us have found joy in connecting with nature and camping is our favourite way to get a healthy dose of fresh air in idyllic surroundings.
Not only can a camping staycation with us be an opportunity to unwind, it also offers ample learning opportunities which can be a great chance for some family fun. A camping holiday offers the chance to try something different. Why not have a go at one of our campfire cooking recipes or a spot of stargazing with loved ones?
Incredible Dorset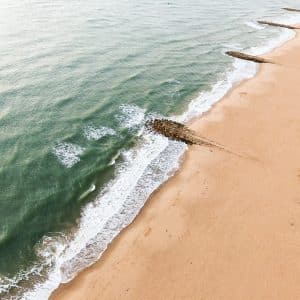 It goes without saying that we believe any camping holiday has the potential to be incredibly special, however a getaway in Dorset is almost guaranteed an extra touch of magic – and that is not our bias talking. Our beautiful county simple spoils us…
Dorset has a little bit of everything. From its historic sites such as the castles of Corfe and Lulworth, to the world-famous Jurassic Coast – it's safe to say that Dorset is packed with both beauty and heritage, all just a stone's throw away from our campsite.
Looking for great food and drink without the need to travel to far flung locations? Dorset's array of local cuisine will add gastronomic flair to any retreat. For a more informal bite, traditional comfort food such as Fish and Chips (we've certainly got the coastline for it!) or our beloved Apple Cake gives you a taste of Dorset's heritage and local produce.
There's No Place Like Burnbake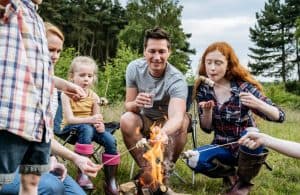 If you're feeling inspired by the thought of a getaway packed with sightseeing and adventures in the fresh Dorset air but are unsure of what to expect from a holiday in 2022, we've put in the effort to ensure that your next staycation is as worry-free as possible! We know that plans can change, especially in these more uncertain times, therefore Burnbake's flexible booking system means that you can rearrange your getaway at no extra cost, if your health circumstances or government guidelines change unexpectedly.
Camping under any circumstance should be a relaxing experience and that is why we have reduced the capacity of our campsite in 2022. Enjoy more space to sprawl, unhampered by neighbours tripping over your guide ropes!
Whether you are a die-hard camper, who loves rustling up every breakfast, lunch and dinner on your gas stove, or prefer the comfort of a catered holiday, Burnbake has something for all tastes. Our wonderful cafe means you can leave the cooking to us, enjoying delicious burgers or pizzas from the woodland kitchen, or by booking one of our luxury log cabins, all the convenience of a kitchen is within reach.
Don't just take our word for it, see for yourself… your Dorset adventure is a mere click away.