There's more to romantic getaways than a night in Paris or a stroll around the cobbled streets of Prague. Although these beloved European destinations have charmed tourists over the years, there's plenty of locations on our green and pleasant doorstep to fall in love with – and Dorset deserves a place in your heart.
Whether you're an outdoorsy couple or prefer a cosy night in, the canopy of stars that twinkle above our magical woodland retreat set the perfect scene for a handsome holiday for two. With Valentine's Day fast approaching, there couldn't be a better moment to book your next staycation at Burnbake. Let one of our luxury forest lodges seduce you into making memories that will last a lifetime. We've put together some ideas to make your stay special.
Find your catch
A relaxed walk across golden sands, hand in hand with a loved one is the epitome of romance, and Dorset's dramatic coastline is nothing short of awe-inspiring. Step out onto Lyme Regis' striking Cobb to admire the hypnotic ocean waves together, followed by a luxury fine dining feast for two at The Oyster and Fish House, where you can sample some of Dorset's finest seafood and fresh produce together.
Awaken your senses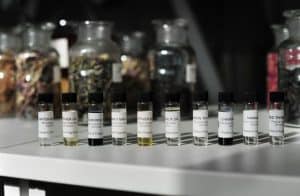 (photo credit: Keyneston Mill
Fancy getting creative together? A masterclass in the art of perfumery at Keyneston Mill in Dorset is a unique way to indulge the senses whilst making wonderful memories together, with the added delight of being able to bottle up your potion for a long-lasting reminder of your enchanting getaway.
Explore together
(photo credit: Wikipedia)
There is something special about admiring nature and the beauty of the natural landscape surrounding Burnbake is certainly not in short supply. For a leisurely day out, why not plan a visit to one of Dorset's many stunning country houses and their charming gardens? A short drive from Dorset's historic county town of Dorchester lies Athelhampton House, a striking 15th century architectural masterpiece accompanied by beautiful 18th century gardens. It's the perfect place to feel like a character in your very own romance novel from time-gone-by.
On cloud nine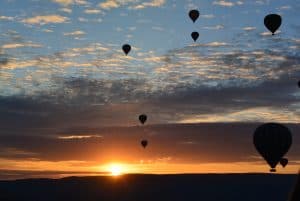 Explore Dorset from the sky by taking a hot air balloon ride with your loved one during your stay at Burnbake. An impressive way to see life from a new perspective this Valentine's Day. For an extra special touch, sip a glass of champagne whilst high in the sky and make a toast to many more adventures together!
Conquer the Golden Cap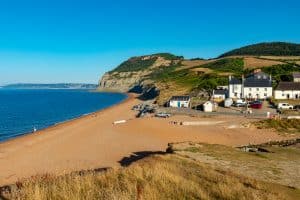 Prefer to keep your feet on the ground? A hike up Golden Cap is a wonderful opportunity to take in Dorset's stunning Jurassic Coast whilst stretching your legs. Why not finish off with a bite to eat or drink in The Anchor Inn, at the foot of the glorious Cap?
Find a thrill
Whilst a relaxing getaway may be ideal for many, we know that there's nothing like a burst of adrenaline to experience love in the fast lane. For thrill-seeking couples, why not make the most of the many extreme sports opportunities on offer along the Jurassic Coast – perhaps a kitesurfing lesson on Portland?
If you are already falling in love with the idea of a romantic break at Burnbake, book now to make this Valentine's Day the perfect escape for two.