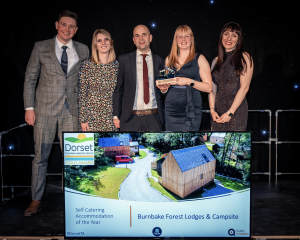 We're incredibly proud of the magical getaways we offer in our luxury forest lodges, with all the facilities you need for a fantastic, self-catered staycation, surrounded by the beauty of Purbeck. So, we were thrilled to be recognised by the Dorset Tourism Awards and take Gold in the Self-Catering Accommodation category yesterday, sponsored by Touch Stay – it's such a pat on the back for the whole team.
Alongside 50 or so other winning local businesses, we were invited to the impressive Bovington Tank Museum for a glittering night of uplifting celebration.
The Self-Catering Accommodation of the Year Award recognises businesses that offer 'truly memorable guest experiences' and entrants can include houses and historic buildings, cottages, hostels, apartments and lodges. Choice, convenience, and comfort are at the heart of what we offer guests who stay with us – from the warmth of our log burning stoves to the kitchen goodies and breakfast hampers we provide in every lodge, we believe it's the little things that count!
We'd like to thank both Dorset Tourism and Touch Stay for such a memorable night and congratulate the many other local businesses who took part.
If you're planning your next holiday, don't just take their word for it – why not book your own stay with us and experience the magic of a Burnbake escape for yourself?