If you've set foot on your local beach recently, there's a good chance you may have caught sight of the sport that's taken beachgoers by storm. We're big fans of stand-up paddleboarding (SUP), thanks to its accessibility and gentle learning curve. With a handful of perfect paddleboarding locations on our doorstep, we couldn't resist putting together our recommendations for an adventure that will make a splash.
Dip your toe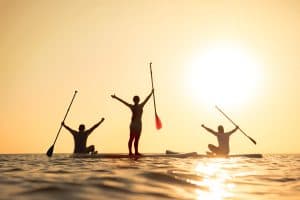 Diving into a new hobby can seem daunting at first but testing the waters before you commit is always a brilliant idea. A guided paddleboard tour is an ideal introduction and help from local experts means you'll be supported as you take your first paddle on the water.
Adventure4All's range of guided adventure sports excursions around Weymouth and Portland are suitable for ages 6 and upwards and mean that you and your family can take your first steps on a board without any commitment.
Setting sail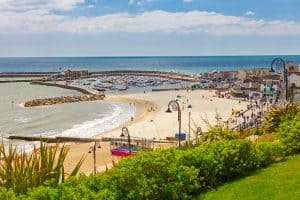 Once you've caught the SUP bug, it's time to get paddling independently. As campers, we're no strangers to the importance of thorough preparation, and heading out onto the water is no exception.
Selecting the right size board, flotation device and a well-fitted wetsuit are vital first steps, and a trip to a specialist shop is the perfect place to start. Why not pop down to one of Lyme's watersport shops, before taking a dip with your board on Cobb Beach? Not only is Lyme Regis home to some of Dorset's most stunning history and costal views, you'll also find an RNLI Lifeguard patrol, making it the perfect spot to paddle safely whilst soaking up breath-taking views.
Quay cruising in Wareham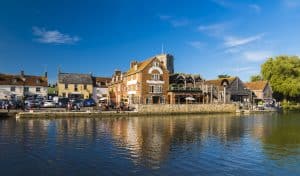 At a stone's throw from our campsite, Wareham is an ideal spot for adventure once you've found your feet. Explore the River Frome after launching from Wareham Quay, where you'll also find paddleboard and kayak shops and be able to tuck into some local fish and chips once you've worked up an appetite.
We recommend investing in sea shoes to protect your feet and be sure to take care when paddling near the beautiful swans that also visit the Quay.
A good old fashioned adventure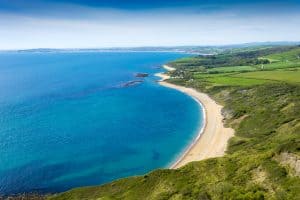 Once you're a confident paddler, there are plenty more secluded adventures to be had, in some of Dorset's lesser -known spots. Like a scene out of a classic Enid Blyton novel, Ringstead Bay is one of Dorset's most picture-perfect beaches. A short walk down its cliffside tracks is worth the beauty that awaits when you step into this secluded bay, and thanks to its more sheltered nature, its calm waters are brilliant for a paddle.
When heading out on the water, we'd always encourage you to bring a mobile phone in a waterproof case, ensure your paddle board has a leash, slap on a hat and sun cream – if needed, and take note of tide times to make your paddleboard adventure as safe and fun as possible.
If you're keen to ride the wave of paddleboarding that's sweeping our coastlines this summer, why not book your adventure and discover the sand, sea and so much more in stunning Dorset.