The summer holidays have arrived, and the race is on to plan some top-tier family fun to keep the little ones entertained now that school's out. We've rounded up some of our highlights for summer in Dorset, to give you plenty of adventure inspiration when you stay at our campsite or in a luxury forest lodge.
Music to your ears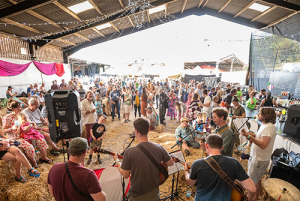 Photo credit: Purbeck Folk Festival
From local songsters like The Bere Essentials to globally renowned artists such as Seth Lakeman, you'll find plenty of tunes to get your feet moving at the Purbeck Valley Folk Fest, from 17th to 20th August. Day tickets are still available, so pop down for some soulful music along the stunning Jurassic Coast.
Land, air, and sea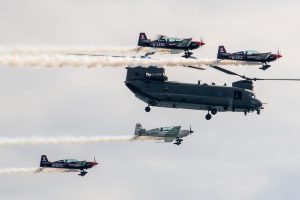 Photo credit: Bournemouth Air Festival
Keep your eyes on the sky and the sea in Bournemouth, from 31st August to 3rd September, for its annual Air Festival. The whole family will love watching mesmerising acrobatics displays from the Red Arrows, as well as the chance to meet and greet pilots and navy crew or enjoy an adrenaline rush on its beach funfair rides.
A family day out? We goat you!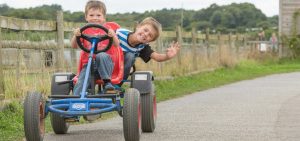 Photo credit: Farmer Palmer's
You'll find plenty of wildlife on your doorstep at Burnbake, but if you can't get enough, why not visit Farmer Palmer's Farm Park. Home to an eclectic mix of farm animals, Farmer Palmer's is hosting a 'Mad4Animals' event on 3rd, 17th and 31st August – a chance to get up close and personal with exotic animals too.
Outdoor entertainment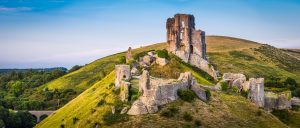 Make the most of the beautiful backdrop provided by Corfe Castle in the summer for a spot of open-air theatre. On 3rd August, bring a picnic blanket and the family to Heartbreak Productions' adaptation of Bad Dad, a light-hearted yet gripping tale that follows a cheeky burglar on a wholesome quest.
On the hunt for something more classic? Join Illyria for their production of Pride and Prejudice on 10th August, from 7-10pm and enjoy their modern interpretation of a much-loved Austen.
Another in the National Trust's roundup of theatrical evenings is Robin Hood on 17th August. A comical rendition of the fabulous folk tale is sure to put a smile on your face and inspire plenty of adventures, when you replace Sherwood Forest with the woodlands and heaths of Burnbake!
The entertainment doesn't stop here – be sure to explore the many other outdoor events at Corfe this summer, including the beloved Peter Rabbit.
Fun for foodies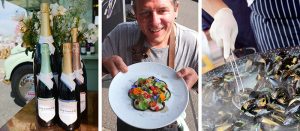 Photo credit: Weymouth Seafeast
Dorset's a hidden hotspot for delicious, high-quality food and drink, and its famous food festivals are the perfect opportunity to experience this for yourself.
Venture deeper into Dorset on 5th or 6th of August and get your tastebuds tingling at the Great Dorset Chilli Festival in Sturminster Newton. From locally produced hot sauce to curries, kebabs, spicy sausage and talks from renowned local chefs, you'll find something to make your mouth water at Dorset's hottest day out!
If spice isn't for you, why not pop down to Weymouth's Seafeast on 9th and 10th September? Taste locally caught seafood from Dorset's Jurassic Coast, washed down with a glass of sparkling wine or pint of Dorset ale and accompanied by the cheerful sound of sea shanty singers.
Don't wait to book your luxury lodge or camping pitch – now's the time to snap up your spot and dive into the highlights of Dorset's summer calendar. To enjoy savings of up to £450, call 01929 480570 or email info@burnbake.com to book.