We can't believe it's nearly the end of September! It seems like yesterday that we were welcoming holidaymakers for an adventurous summer, full of fun (and sun) in the glorious Dorset countryside.
There's still time to pitch up and make memories before we say goodbye to 2022's camping season on 30th September, until next year. Plus, if you want to break away from work for a last minute, mid-week getaway in a luxury forest lodge, we've got some availability between now and Christmas. We've rounded up some of this season's magical moments captured by our guests.
A camper's best friend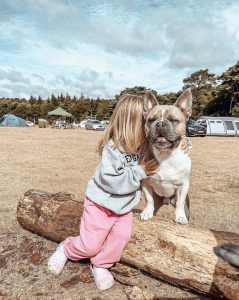 We loved this adorable moment captured by @rocky__and__rose on Instagram. We take so much pride in creating a welcoming environment at our campsite, where the whole family can enjoy the great outdoors. There's also a kids' play area and the range of wonderful dog-friendly goodies available in our on-site shop.
The coolest camping setups
A few nights spent under canvas has to be one of life's simplest joys and we'll always be diehard fans of the humble pop-up tent; it's simple and so accessible for first-time campers. However, we've been impressed with some guests who have gone all-out this summer.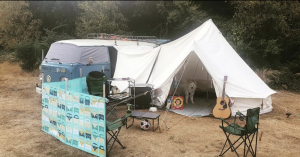 Deciding between a metal or canvas roof wasn't necessary for @themugglebus, who shared this brilliant snap with us on Insta. We loved their funky, retro-style setup and innovative use of space on their dog-friendly getaway.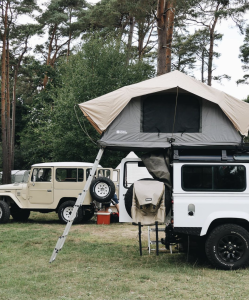 Image credit: instrumentoverland.com
Seeing things from a different perspective is one way to inject a sense of adventure into life and that's exactly what @110journals did earlier this summer. We're in awe of their treetop camping setup, giving a bird's eye view of our beautiful site, and we love their rugged, off-road aesthetic. If you fancy going off the beaten track on your stay with us, an excursion with Purbeck Safari is a wonderful way to explore Dorset's countryside and coastal vistas.
Camping closes
Image credit: @thisbristolbrood on Instagram
Whilst our campsite closes for this season on 30th September, there's still time to plan your adventure in one of our luxury lodges. With plenty of availability for a mid-week escape from now until Christmas, it's the perfect time to book your great British getaway and see our site glistening during the golden hues of autumn.