Off the beaten track with Purbeck Safari
Dorset is brimming with stunning flora and fauna and the area surrounding our woodland campsite is not short of wonderful walking and cycling routes that allow you to get up close and personal with wildlife. But if you want to discover a little more off the beaten track, an excursion with our friends at Purbeck Safari will inject a sense of adventure into your next stay at Burnbake. You don't need to travel far to experience the thrill of an exciting expedition without the trepidation of lions lurking around the corner!
Meet Purbeck Safari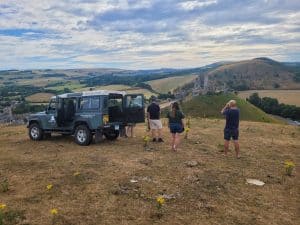 Drawn in by Dorset's charm, husband and wife duo Fran and Jane Routledge moved to Purbeck from London in 1987, and just like our own family-run business, they aim to make the beauty of Dorset accessible to all.
From the soaring cliffs of the Jurassic Coast to its charming heaths and historic landmarks, Dorset is not short of breath-taking beauty. Hop into a classic Landrover Defender to enjoy a tour of beautiful Purbeck, for a quintessential British adventure with all the thrill of a far-flung safari holiday.
Adventure in expert hands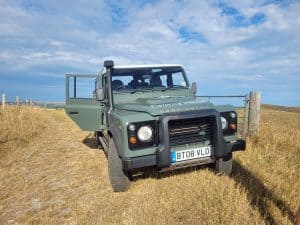 Not only will you get to admire the magic of Purbeck's scenic views, but you'll also become an expert on its fascinating history, as you learn about its heritage first-hand from a tour guide who lives and breathes all things Dorset.
For a small extra fee, Burnbake guests can be whisked away in style from our campsite, thanks to Purbeck Safari's pick-up service – taking away the stress of travelling to a set-off point and allowing you to relax and soak up the joy of your Purbeck adventure. To arrange an off-road escapade, simply quote 'Burnbake22' when booking with them.
Stay at our campsite or in our luxury forest lodges and make your getaway even more magical with by calling 07858 956181 or email info@purbecksafari.co.uk to secure your sensational excursion.