With spring and summer fast approaching, there's never been a better time to book your great outdoor getaway and get up close to nature. There is so much to love about camping, and we've been reflecting on some of our favourite reasons why it's so memorable, and something we all should do as much as possible.
A breath of fresh air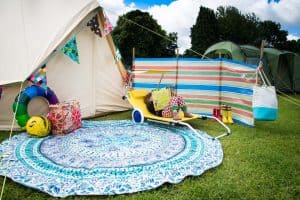 There's nothing quite like that first breath of fresh, countryside air to awaken the senses – we all take that deep inhalation the minute we step foot outside, right? It makes us feel alive. Waking up every morning to the smell of nature and the sound of birdsong is truly an unrivalled experience. Surrounded by magical woodland, your tent pitched amongst enchanting trees and the wild allure of nature calling you to explore. That feeling of fresh air is a feeling of freedom – it's the epitome of camping.
An affordable getaway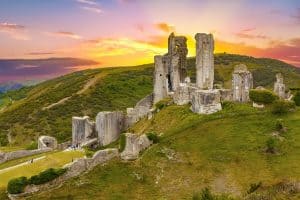 A camping holiday allows you to escape the everyday and visit new and exciting places – up close and personal – for a much smaller price tag. You hold your holiday in your hands and make the most of nature's gifts – a camping staycation is as flexible as it gets. At Burnbake, you'll have access to a host of fabulous facilities, such as our adventure play area, toilets and showers, and camping gas refills, content in the knowledge that your outdoor adventure is not going to break the bank. With living costs rising, it's the perfect year to discover the joy of camping and see what makes it so memorable.
Campfire cooking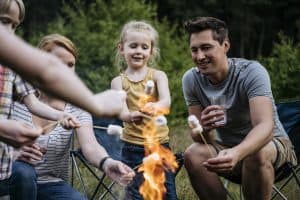 The crackle and seductive hiss of a fire is one of those nostalgic sounds that we treasure for a lifetime. The art of mastering a campsite fire becomes almost a ritual for happy campers. It's a special place, where stories are shared, friendships are strengthened, and tummies are satisfied. Easy-to-make campfire meals, devoured in the great outdoors, feel almost magical – with little-to-no washing up required!
Splendid stargazing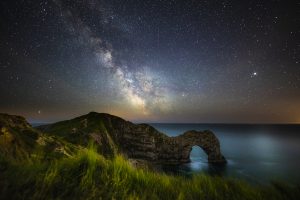 Sleep under the stars and make friends with the mysterious moon – it's the best lullaby. The warm spring and summer nights here in Dorset provide an idyllic backdrop for admiring the wonders of the galaxy – we're a designated Area of Outstanding Beauty too. Though, any camping adventure offers the perfect opportunity to see the night sky in all its glory. The countryside is a magnificent place to escape the light pollution found in cities.
Time away from tech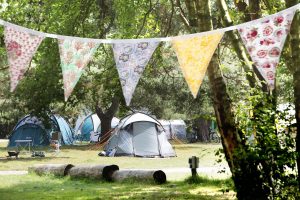 Ever found yourself saying that you want time to 'switch off'? Well, camping allows you to unplug the stresses of daily life and surround yourself by the beautiful buzz of nature. Experiencing life a little more off-grid is one advantage of a camping break. For parents and little ones alike, it can be all too easy to feel glued to technology at times, and camping is a wonderful choice for anyone seeking a gadget-free getaway, thanks to the abundance of surrounding nature, which offers an enjoyable distraction from screens.
Fun for all the family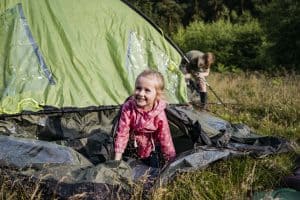 No matter what age, nature has something to offer everyone: al fresco dining, exploring the great outdoors, walks, adventure trails, fossil hunting, outdoor activities, and more…. A camping getaway eliminates the stress of finding a holiday home for your four-legged friend, as well-behaved dogs are welcome at most campsites – we roll out the red carpet for them at Burnbake!
Still not sold on what all the fuss it about? Don't just take our word for it – bookings are now open for our campsite, which welcomes back visitors on 15th April. Secure your Burnbake staycation today and experience the best things about camping for yourself. Once you discover the joy of camping, you never look back!