With over 2,100 holiday parks and campsites in the UK, you're certainly spoilt for choice, but we understand that a no-expense-spared getaway is not always the satisfying staycation that's right for you. If a smaller, independent, family-owned location tickles your fancy, our forest lodges and campsite come with plenty of unique offerings.
Life's a beach…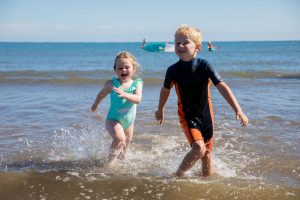 Forget overcrowded swimming pools – you'll truly go back to nature when you a stay at our magical woodland campsite or luxury lodges, conveniently located on Dorset's Jurassic Coast. Grab your towel, bucket and spade and saunter down to the Purbeck coast, to enjoy an afternoon in Swanage, at Studland or one of Dorset's many other hidden gem beaches, within walking distance of Burnbake.
Whether you're into a spot of sunbathing or wild swimming, our seaside surroundings are bursting with adventures to discover.
Perfect for pets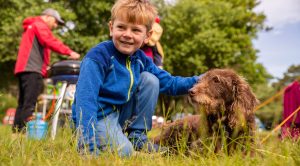 No camping staycation is complete without your beloved canine companion! It's why we're doing things a little differently to other camping holiday parks in the South West – we don't charge a penny extra for your pet to camp, making your getaway easy and affordable.
When you begin your stay in one of our dog-friendly lodges, you'll be greeted by a treat sure to get your pet's tail wagging. Every dog-friendly lodge comes with its own luxury hamper, containing tasty treats, a reusable bowl, towel, cosy blanket and non-toxic cleaning spray to make your stay as comfy as possible.
Comfort and convenience go hand-in-paw – we've thought of everything, including a handy external hose extension outside of every canine-compatible lodge, so your pooch can relax on the terrace whilst you clean them off, before venturing into your clean, cosy holiday crash pad.
Luxury guaranteed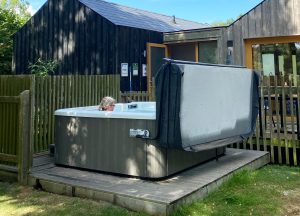 When you're choosing somewhere to get away on a blissful break, deciding between luxury and great value shouldn't be a question! That's why every one of our forest lodges, whether standard, dog friendly or executive, comes with its own top-notch hot tub. You can guarantee a relaxing break, chilling out under the bubbles, without paying extra on top of our usual prices.
On your doorstep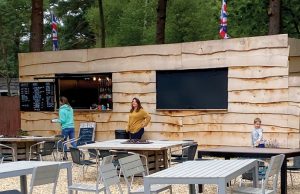 Your getaway has only just begun, and you've already lost count of trips back and forth to the car…it's an easy route to feeling exhausted before starting to enjoy your family holiday! At Burnbake, it's as simple as booking your stay, parking up next to your woodland lodge and kickstarting a Dorset staycation to remember.
What's more, wave goodbye to getting lost around huge holiday park sites when peckish! Just a short stroll from your forest lodge or tent, you'll find the Snack Shack, whipping up tasty yet affordable burgers, bakes, hot drinks and more. Forgotten to pack sun cream or your favourite cereal? Our onsite camp shop and reception store stock holiday essentials, including toys to keep younger holidaymakers and four-legged friends content, at prices that'll keep adults happy too.
We know that seeing is believing, so why not discover Burnbake for yourself by booking a camping getaway or luxury lodge retreat? With savings of up to £200 on breaks this summer, there's no better moment to plan your next adventure.